The musicians
Royal Theatre Music
The music of Phralak Phralam is played by an orchestra called Pinphat (original Khmer form). The musicians follow an oral apprenticeship for many months, because the whole ensemble must have a precise knowledge of all pieces which, long or short, follow set variations. It is not uncommon for a musician to know how to play several instruments. Now, for the preservation of this musical art form, an aid program is assisting with the transcription of these pieces.
Instrumental ensemble pinphat
The pinphat, (from Sanskrit vînâ and vadya meaning 'musical instrument') was and is still in particular parts of South-East Asia used for royal sacred dances and temples, where it accompanies marriage ceremonies and religious festivals, but also shadow theater and the famous Phralak Phralam theater, the Laotian version of the Râmâyana. The ensemble consists of two xylophones "ranat ek" and "ranat oum", of one or two circular sets of bulb gongs called "kong wong", a pair of big drums named "Kong Tat" and of a small double drum called "Tapon", of either "Sing" straight flute or "Khroui" cymbals, accompanied by one or two soloist singing alternately with the instrumental parts.
Mahori or Mohori  instrumental  ensemble 
The "mohori", (a word of Thai origin) is an instrumental ensemble which plays court music, separate to any ritual functions and having no other purpose than entertainment. It consists of xylophones "ranat ek" and "ranat oum", of straight viols "So I" and "So O", of one or two kong wong, one small double drums called "Tapon", and of cymbals or "Sing" and "Blood".  Often other instruments of similar origins will also be played, such as the "khim", the zither table, and transverse flute, reminiscent of Chinese music and the "mohori" Thaï band, to which their music is very close. The songs (solo or in choirs) alternate with the instrumental parts.
The Phralak Phralam Mucisians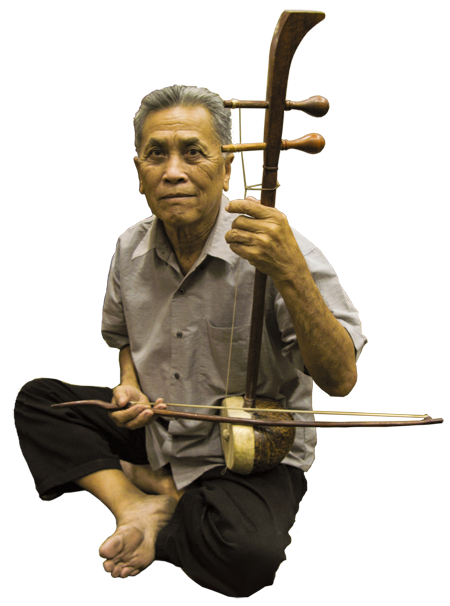 Onh : lead vocal, soy o
Chanpeng Soudavong : female lead vocal  
Phoumy : female lead vocal
Onh Chang Soudavong : nangnat hey
Onh Sy Soudavong : nangnat houm
Khamla : soy i
Chanthy Soudavong : soy o
Vanhdy Soudavong : pat kong
Khampui : sing, soy o
Houmpanh : that phon, kong that, sing
Wathana : that phon, kong that
Khampui : that phon, kong that
The Choregrapher
Thongchan :  Choregrapher
Manivong Kathiyarath :  Choregrapher