The show
The performance of the Phralak Phralam lasts approximately two hours and is  held in the theatre of the former Royal Palace of Luang Prabang, which was formerly used as the royal ballroom and reception room.
The room can accommodate a great number of people, and in the evening it is specially lighted to great effect.  Guests can hear cicadas, crickets and frogs in the palace gardens which echo the sounds of the orchestra.
The music accompanies and illustrates the nine dances of the Phralak Phralam.  Each evening, two of the nine dances are performed and totality of the performances invoke the ancient royal kingdom of Lane Xang.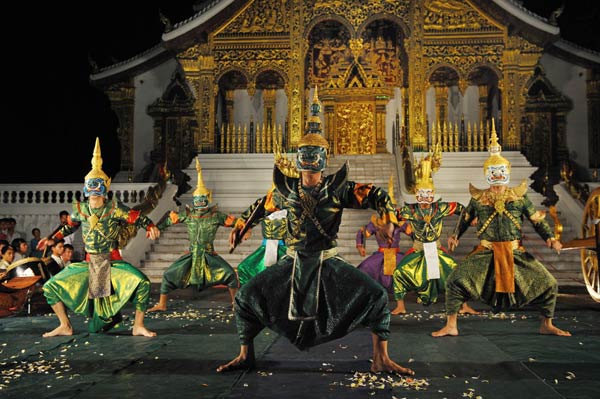 Shows are held every Monday, Wednesday, Friday and Saturday at 1800h in high season (October to March) and 18h30 in low season (March to September).
Price 1 (rows A.B.C ) 150 000 kips (15 € approximately)
Price 2 (rows D.E.F.G) 120 000 kips (12 € approximately)
Price  3 (rows H.I.J) 100 000 kips (10 € approximately)

NB: It is forbidden to take photos during the performance so as not to interrupt the dancers.  Members of the audience are welcome to take photos at the end of the performance.